4th Annual Nahuatl Conference at UCLA
Jun 4, 2021 @ 9:00 am
-
4:00 pm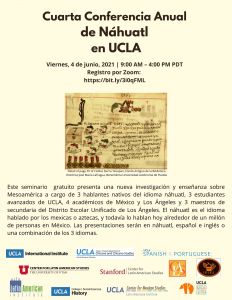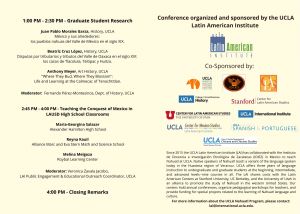 The Department of Spanish and Portuguese cordially invites you to attend the 4th Annual Nahuatl Conference at UCLA!
This free webinar features new research and teaching on Mesoamerica by 3 native speakers of the Nahuatl language, 3 advanced students at UCLA, 4 scholars from Mexico and Los Angeles, and 3 high school teachers from the LA Unified School District. Nahuatl is the language spoken by the Mexica or Aztecs, and it is still spoken today by about a million people in Mexico. Presentations will be in Nahuatl, Spanish, and English or a combination of the 3 languages.
Please click here to register.
To download flyer, please click here.
To download program page 1, click here.
To download program page 2, click here.