A Day of the Andes at UCLA
Apr 10 @ 10:00 am
-
6:00 pm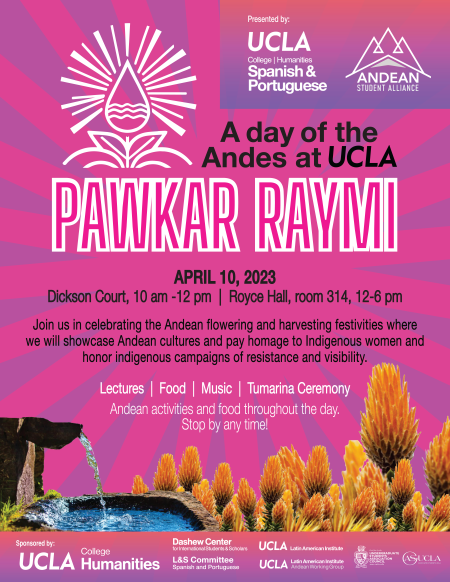 UCLA's Indigenous Language Quechua/Kichwa Program from the Spanish and Portuguese Department, in collaboration with the newly founded Andean Student Alliance (ASA), invites you to attend this year's academic and cultural event, "A Day of the Andes at UCLA."
As the "Decade of the International Indigenous Languages" has begun, this event aims to celebrate Indigenous women who, over the years, have safeguarded and transmitted the languages alongside all their ancestral knowledge. This event also aims to celebrate diversity, equity, and inclusion and promote awareness of the Indigenous campaigns of resistance and visibility for their fair treatment today.
This event will take place as the Pawkar Raymi is celebrated throughout the Andes. This celebration commemorates the beginning of the harvests and the flowering of the land. During "A Day of the Andes at UCLA," we will perform the Tumarina—water and flower ritual— to honor and thank Our Mother Earth—Allpa Mama and Pachamama.
Through this event, we aim to bring a piece of the Andes to this academic space to promote and visibilize different worldviews with respect, acceptance, and reciprocity to break down colonial legacies.
The event will be in-person on Monday, April 10, 2023, at Royce Hall 314 (on the 3rd floor).
Please RSVP to attend by clicking this link: https://forms.gle/aQHdAg653t99zAteA
For more information on the event and the full schedule, please visit the event website.