"Don't call me son" Screening Part of the 6th Annual UCLA Latin American and Iberian Film Festival
Apr 24, 2018 @ 4:00 pm
-
6:00 pm
The Spanish and Portuguese department invites you to the "6th Annual UCLA Latin American and Iberian Film Festival Screening of 'Don't call me son'"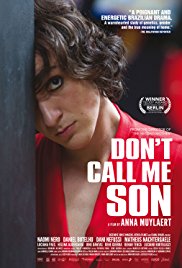 Date: Tuesday, April 24, 2018
Time: 4:00 PM – 6:00 PM
Location: 314 Royce Hall
Directed by Anna Muylaert
This poignant coming-of-age film from Brazil is focused on Pierre, seventeen and in the middle of puberty. Ever since his father's death, his mother Aracy has looked after him and his younger sister Jacqueline, spoiling them both. But when his mother is arrested for having stolen him from a hospital when he was a newborn baby, Pierre's life changes dramatically. His biological parents Gloria and Matheus have spent seventeen years searching for him; they are now desperate to make up for the lost years and spend time with their eldest son, whom they call Felipe. Observed from a critical distance by his younger brother Joca, Pierre/Felipe moves in with his well-heeled new family, who are determined to mold him according to their ideals. But Pierre has his own designs for his life.
82 min | Portuguese with English Subtitles
ALFAIÃO, 2016 film from Portugal directed by André Almeida Rodrigues.
13 min | Portuguese with English Subtitles
107 min | Spanish with English Subtitles
Sponsor(s): Latin American Institute, Center for Brazilian Studies, UCLA Alan D. Leve Center for Jewish Studies, UCLA Spanish and Portuguese, Pragda, The Ministry of Education, Culture and Sports of Spain, SPAIN arts & culture, Spanish Film Club, Melnitz Movie, Motus Sodalis, UCLA Graduate Students Association, Center for European and Russian Studies