La historia secreta de las cuentistas mexicanas. A conversation with: Liliana Pedroza
Mar 2, 2022 @ 2:00 pm
-
3:00 pm
Join us for an upcoming event!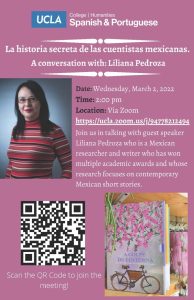 Date: Wednesday, March 2, 2022
Time: 2:00 pm
Location: Via Zoom https://ucla.zoom.us/j/94778212494
Liliana Pedroza, a Mexican writer, and researcher, earned her Ph.D in Hispanic-American Literature from the Complutense University of Madrid, where she carried out research in contemporary Mexican short stories.  A product of her dissertation is the catalog Historia secreta del cuento mexicano (1910-2017), and the subsequent website, https://www.catalogodelcuentomexicano.com/,the first Mexican web page devoted to updating and analyzing information about short stories written by women.  Recently, she was the editor and anthologist of A golpe de linterna: más de 100 años de cuento mexicano, making her one of the most important critics and activists advocating for female authors who were silenced, or ignored.
As a narrator, she has won the Julio Torri National Prize, the Chihuahua State Prize for Literature, as well as Honorable Mention for the Agustín Yáñez National Short Story Contest. She has published in national and foreign journals, and some of her stories have been translated into French, Serbian and Greek.