Tertulia Con Prof. Catalina Forttes
Feb 9, 2022 @ 4:00 pm
-
5:00 pm
Please fill out the RSVP here!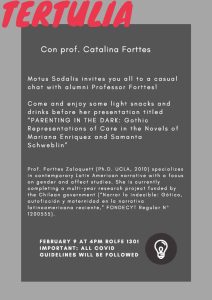 All covid protocols are to be followed- masks are to be worn in doors, N95, KN95 and Surgical masks are acceptable. Cloth masks are not allowed.
We plan to have some prepackaged snacks and drinks- Food and drink are prohibited at indoor events, including departmental events and gatherings. Removal of masks to consume food and drink increases the risk that attendees might contract COVID-19. It can also be difficult in such situations to ensure that physical distance is maintained among people who have removed their masks to eat or drink, thus further increasing risk. The patio in Seminar Room 1301 will be available to enjoy snacks but eating in the seminar room is prohibited.