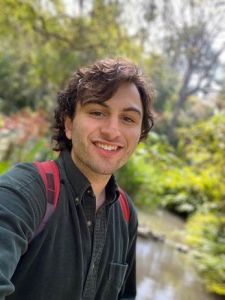 Congratulations to our Student Maxx Coleman Vogel for receiving The Jose Rubia Barcia Essay and Prize and the Carroll B. Johnson Outstanding Senior Award!
Maxx Vogel was born a Bruin at the UCLA Medical Center. Two and a half decades later, he is monumentally proud to be graduating from the very same university with a BA in Spanish. While at UCLA he has concentrated on researching societies in contact from the Early Modern era to the present and cultures of diaspora communities. Maxx has also taken interest in the fields of Education, Jewish Studies, and the Yiddish language. After graduation, Maxx plans on continuing his career in academia and is pursuing graduate programs in Migration Studies.
Congrats Maxx!
José Rubia Barcia Essay Prize— Essay on Spanish Literature
José Rubia Barcia (1914-1997) was a distinguished professor of 20th century Spanish literature who also served as the chair of UCLA's Department of Spanish and Portuguese. He was born in El Ferrol (Galicia), where a cultural center dedicated to him now houses his library and a collection of his papers. He studied Arabic and Hispano-Arabic literature at the University of Granada. After completing his degree he held important positions in the Republican Army during the Spanish Civil War and as a consequence he went into exile, first to France and then to Cuba and then to the United States. Here he worked in Hollywood with the Spanish film director Luis Buñuel. Barcia published a great number of books and articles on Valle Inclán, Unamuno, Federico García Lorca and other writers of the 20th century. He was also an author of political essays. His translation of César Vallejo's poetry, done in collaboration with Clayton Eshleman, received the "National Book Award" in 1979.
Carroll B. Johnson Outstanding Senior Award— Special Distinction
Professor Carroll B. Johnson (1938-2007) received his B.A. in Spanish from UCLA in 1960 and his Ph.D. in Romance Languages and Literatures from Harvard University in 1966. He joined the UCLA faculty in 1964 as an acting assistant professor. He became a full professor in 1976 and continued teaching until his death. A Los Angeles native who spent his entire academic career at UCLA, Carroll was president of the Cervantes Society of America from 1997 to 2000, editor of the scholarly journal Cervantes, and Chair of the UCLA Spanish department for an unprecedented 13 years in three separate tenures. He was an influential expert on the Spanish Golden Age known for insightful and groundbreaking research, particularly in his 1983 book Madness and Lust: A Psychoanalytical Approach to Don Quixote. He later wrote from a socioeconomic perspective in Cervantes and the Material World. Professor Johnson also excelled in the classroom, and his students praised his unfailingly generous support of their research and the demanding academic standards he set for both them and himself. He set the benchmark for academic excellence, service to the profession, university service, teaching, and collegiality.