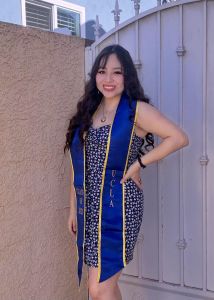 Congratulations to our Student Kathia Berenice Rosas Diaz for receiving The Richard Reeve Spring Essay Prize on Spanish American Literature and Culture!!
I'm Kathia Berenice Rosas Díaz and will be graduating with a B.A. in Spanish and History with a minor in Chicana/o Studies. I will be pursuing a master's degree in Latin American Studies here at UCLA starting in the fall. I am a Mexican immigrant, the daughter of hard-working parents, and the granddaughter of a Purépecha woman whom I admire most. Her story, the histories of indigenous people of Latin America, and my migration experience inspired my passion for literature and hidden histories of Latin America, which I hope to teach to future generations someday.
Soy Kathia Berenice Rosas Díaz y estoy a punto de terminar la licenciatura en Español e Historia con una segunda concentración en Chicana/o Studies. En el otoño empezaré un programa de posgrado aquí en UCLA para recibir la Maestría de Estudios Latinoamericanos. Soy inmigrante mexicana, hija de padres trabajadores y nieta de una mujer Purépecha, la persona que más admiro. Su historia, al igual que las historias de la gente indígena de Latinoamérica y mi experiencia como migrante inspiraron mi pasión por la literatura y la historia no-oficial de América Latina y quisiera educar a las futuras generaciones en estos temas.
Congrats Kathia!
Richard Reeve Essay Prize— Essay on Spanish American literature or culture
Professor Richard Reeve (1935-1992) received his BA from the University of Utah and his Ph.D. from the University of Illinois. He taught at Ohio State University from 1966 until 1968, when he joined the faculty of UCLA's Department of Spanish and Portuguese, where he remained until the end of his life. His scholarly interests focused primarily on twentieth-century Spanish American literature, with a special focus on contemporary Mexican writers. He published numerous articles on Mexican literature, and he was the co-editor, with Professor Gerardo Luzuriaga, of Los clásicos del teatro hispanoamericano.