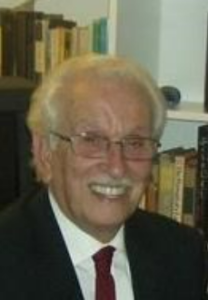 Rubén Ángel Benítez passed away in the company of his immediate family on May 19, 2023 at the age of 94 in Encino, California. His death is an inexpressible loss for his wife, María Elena Francés, his daughters Marcela Benítez, Gabriela, González, Margarita Benítez and Silvia Benítez; his son Leonardo Rubén Benítez; his many grandchildren and great-grandchildren, who are spread out across the Americas from the U.S. to Argentina; and a deep loss to his dozens of colleagues at UCLA and other universities throughout the world, to his innumerable students and friends.
Rubén Ángel Benítez was born in Chivilcoy, Argentina in 1928. He studied and later taught at the Universidad de Buenos Aires for the first ten years of his career, before moving to the U.S. to teach at Western Reserve University in 1968-1969 and at UCLA in the Department of Spanish and Portuguese until his retirement from official duties in 1994. As an emeritus professor, Rubén did not rest on laurels but entered the most fruitful stage of his career and attained the peak of his scholarly powers. He carried out his research with the same energy, devotion and intelligence that had marked his earlier years; published books, articles and reviews; mentored current and former graduate students and younger colleagues; and participated in the intellectual life of his department and the university.
Over the course of some four decades, Rubén was the heart of the Department of Spanish and Portuguese at UCLA, where he and his colleagues shaped a generation of teachers and scholars, many of whom remain active in secondary schools, colleges and universities across the country. He is the author or editor of some twenty books, ranging from scholarly editions, monographs, textbooks and translations to novels and a memoir in which he records his encounters with famed artists like the Argentines Jorge Luis Borges and Julio Cortázar, the Spaniards Jorge Guillén and Luis Buñuel. Rubén is also the author of more than fifty scholarly articles, in addition to book reviews that were often so incisive that they eclipsed the works under review.
His landmark studies on the poet and prose writer Gustavo Adolfo Bécquer, the preeminent figure of Spanish Romanticism, made him one of the world's leading scholars on this author and laid the foundations for a new understanding of an artist who has influenced Hispanic literature for the last 150 years; a portrait of Rubén hangs alongside those of other prominent authors and critics on the walls of the Museo Bécquer in the monastery of Santa María de Veruela, Spain. Although Rubén will be recognized and remembered for his vast learning, his magisterial classes and his brilliant writings, they were only a part of a full, varied life that always honored family and friends above all else. "Kindness, love and friendship are more important in our lives than intellectual achievements," he wrote.
With profound affection we recall the man who charmed babies and children; who found time to share his wisdom with others, who guided and counseled us in our most trying moments; who recited by heart hundreds of verses by Italian and Spanish poets; who spun out well-crafted poems in an hour or two; who prepared unforgettable, abundant Argentine-style asados in the patio of his home. Hasta siempre, querido esposo, padre, abuelo, bisabuelo, maestro, amigo, mi Quijote caminante. Soñamos caminos y los impusimos en nuestra realidad y no se borrarán como estelas en el mar. Gracias por la vida tan bella que me tocó vivir a tu lado!
By Edward Stanton, Professor Emeritus, University of Kentucky