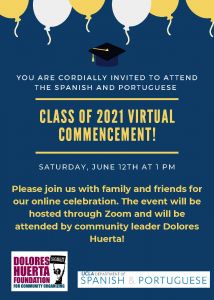 The Department of Spanish and Portuguese cordially invites you to attend our 2021 Virtual commencement!
Our online event will take place Saturday, June 12th at 1PM – mark your calendars! 😄
Please note: If you do not RSVP you will not receive the information to participate in the event.
***The deadline to RSVP is WEDNESDAY, MAY 19, end-of-day​​​***
After you RSVP for the event, you will receive an email from StageClip to submit your name, majors/minors, a short message, and a picture for the Graduating Senior slide show, which we will show at the event.
RSVP FORM: https://forms.gle/cgxoDounLT33xpEv8
If you have any questions please email Juan Espinoza at: jespinoza@humnet.ucla.edu