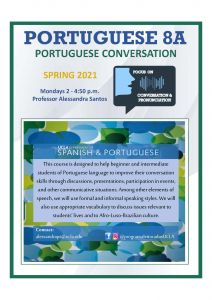 This course is designed to help beginner and intermediate students of Portuguese language to improve their conversation skills through discussions, presentations, participation in events, and other communicative situations. Among other elements of speech, we will use formal and informal speaking styles. We will also use appropriate vocabulary to discuss issues relevant to students' lives and to Afro-Luso-Brazilian culture.
The class is held on Mondays 2 – 4:50 pm.
To download flyer, please click here.