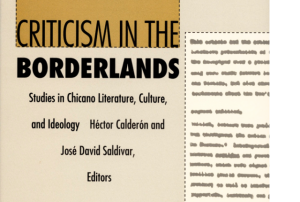 On Saturday, January 9th, 2021, the Modern Languages Association will be hosting a panel session in honor of UCLA Professor Hector Calderon's (Spanish and Portuguese) groundbreaking anthology, "Criticism in the Borderlands: Studies in Chicano Literature, Culture, and Ideology" thirty years after its first publication. This panel will bring together experts in the field to discuss how this anthology was the catalyst for the emergence of a Chicana/o literary and cultural studies field informed by feminist, poststructuralist, and Marxist theories. This panel is part of MLA's 2021 Annual Conference, and aptly fits Professor Judith Butler's presidential theme of Persistence. 
As Professor Calderon notes the beginning of this anthology was rooted at his time at Yale University, "In 1984, I conceived of this anthology as an Assistant Professor at Yale following the example of my Yale friends Henry Louis ("Skip") Gates, Jr. and Gloria Watkins (Bell Hooks). After a conference at Stanford in 1987 that brought the anthology participants together, I asked Jose Saldivar to join me as Co-Editor."
At the time, the subject of borderlands was not published on previously in academia, and held a stigma that caused a difficult time in getting the collection published. Calderon notes, "I wrote every major press in the U.S. seeking publication. All answered NO. Only one press answered my letter with the possibility of publication, Duke, which was then a "sleepy" southern press and not the publishing powerhouse it is today. Senior Editor Dick Rowson, born and raised in California, was interested. I referred him to Professor Fred Jameson, my professor and mentor at Yale.  Professor Jameson read the finished manuscript in 1989 and ended his evaluation of the entire manuscript to Rowson with, "We must go to press at once.""
The anthology was published as the third book in the Post-Contemporary Interventions series edited by Stanley Fish and Fred Jameson.
Jameson wrote for the anthology back cover a review that predicted the major success and impact that this collection has had for the past thirty years, "This virtually monumental collection constitutes a decisive intervention into Chicano criticism reminiscent of classic feminist and African-American anthologies. It works on a range of levels: history, but also history of the discipline; contemporary theory on the general level, but also some very specific debates around race and gender; new literature, plus a new context for the problem of the canon; a very wide range of references, but also some very basic social realities. A stunning addition to the field!"
The Division would like to congratulate Professor Hector Calderon on this honor at MLA, the thirty year celebration of the impact of "Criticism in the Borderlands: Studies in Chicano Literature, Culture, and Ideology"