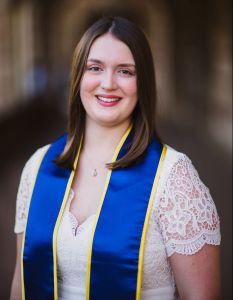 Congratulations to our Student Emily Vose for receiving The Carroll B. Johnson Outstanding Senior Award of Special Distinction!!
Emily Vose is a first-generation, transfer student from Atascadero, CA. She transferred from Cuesta College after earning her Associate's Degree in Spanish. Upon transferring to UCLA, she became involved with the Transfer Student Center, leading the summer development of the Transfer Mentorship Program alongside a cohort of 3 Mentor Leads. She will be graduating Summa Cum Laude with a B.A. in Spanish with a minor in Chicano/a Studies. After graduation, Emily will be teaching Secondary Spanish with Teach for America while earning her Master's Degree in Teaching from the University of Washington.
Congrats Emily!
Carroll B. Johnson Outstanding Senior Award— Special Distinction
Professor Carroll B. Johnson (1938-2007) received his B.A. in Spanish from UCLA in 1960 and his Ph.D. in Romance Languages and Literatures from Harvard University in 1966. He joined the UCLA faculty in 1964 as an acting assistant professor. He became a full professor in 1976 and continued teaching until his death. A Los Angeles native who spent his entire academic career at UCLA, Carroll was president of the Cervantes Society of America from 1997 to 2000, editor of the scholarly journal Cervantes, and Chair of the UCLA Spanish department for an unprecedented 13 years in three separate tenures. He was an influential expert on the Spanish Golden Age known for insightful and groundbreaking research, particularly in his 1983 book Madness and Lust: A Psychoanalytical Approach to Don Quixote. He later wrote from a socioeconomic perspective in Cervantes and the Material World. Professor Johnson also excelled in the classroom, and his students praised his unfailingly generous support of their research and the demanding academic standards he set for both them and himself. He set the benchmark for academic excellence, service to the profession, university service, teaching, and collegiality.