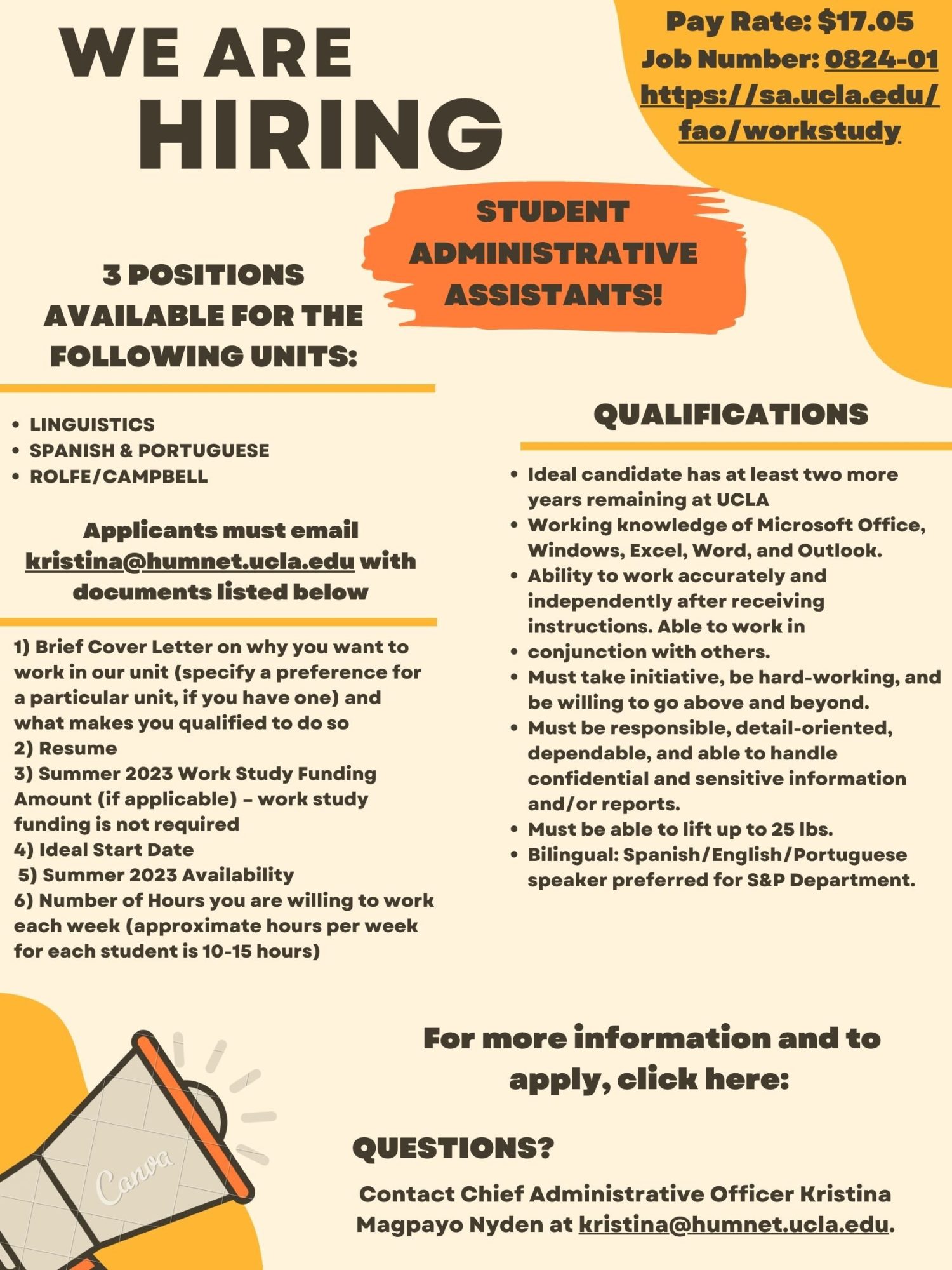 The UCLA Rolfe/Campbell Humanities Group, including the Departments of Linguistics and Spanish & Portuguese (S&P), is recruiting part-time administrative student assistants for all three "units" (Rolfe/Campbell, Linguistics, S&P) to provide diverse and varied administrative assistance to the staff, faculty, students, and visitors. Students will be cross-trained and placed in a unit depending on interest, skills, and needs.
Tasks include but are not limited to front office management, answering phones and emails, customer service to all visitors and department members; data entry/collection/analysis, internet research; office and supply organization; create/update/audit website, flyers, newsletters, spreadsheets; copying, scanning, filing, composing correspondence; running errands, flyer/mail distribution. Other duties include on-site and virtual event assistance for seminars, lectures, and conferences during and after business hours.
In all units, we create a welcoming work environment where students can thrive, contribute, and feel like a valued member of the team. We train students so they can grow and enhance their resume, which will help when entering the work force.
This is an in-person, on-site position. Normal business hours of operation are Monday-Friday, 8am-5pm.
When submitting your application, please provide the following documents:
1) Brief Cover Letter on why you want to work in our unit (specify a preference for a particular unit, if you have one) and what makes you qualified to do so
2) Resume
3) Summer 2023 Work Study Funding Amount (if applicable) – work study funding preferred, but willing to consider students without work study funding
4) Ideal Start Date
5) Summer 2023 Availability
6) Number of Hours you are willing to work each week (approximate hours per week for each student is 10-15 hours)
Applicants must send the documents listed above in their Application Email to Kristina Magpayo Nyden at kristina@humnet.ucla.edu.
Priority is finding good candidates who will fit into the office culture. Interviews will be conducted on a rolling basis, dependent on applicant's qualifications, until filled.
Summer student workers are eligible for academic year hiring (fall/winter/spring) based on performance and academic year work study funding.
QUALIFICATIONS
Ideal candidate has at least two more years remaining at UCLA (those graduating in June 2023 will be given lower priority but still considered).
Working knowledge of Microsoft Office, Windows, Excel, Word, and Outlook.
Should be able to type at least 30-40 words per minute.
Excellent organizational, interpersonal, and communication skills.
Ability to work accurately and independently after receiving instructions. Able to work in conjunction with others.
Must take initiative, be hard working, and willing to go above and beyond.
Must be responsible, detail-oriented, dependable, and able to handle confidential and sensitive information and/or reports.
Experience in an office environment helpful.
Must be able to lift up to 25 lbs.
Bilingual: Spanish/English/Portuguese speaker preferred for S&P Department.
Additional skills but not required (looking for quick learners willing to learn these skills through mentorship): experience with WordPress, Adobe Acrobat, InDesign, Canva, and film editing/production software (i.e., Premier Pro). Indicate any and all additional skills on resume/cover letter.
Depending on performance and interest for both the employer and employee, opportunity for long-term employment.
QUESTIONS?
Contact Chief Administrative Officer Kristina Magpayo Nyden at kristina@humnet.ucla.edu.
Pay Rate: $17.05 per hour (negotiable based on experience)
Title: Student 2
Click Here for more information!